SKYCUT A3 Max 2
Skycut model A3max 2 is a homo-type printer that comes with a capacity of 1800 sheets per day with multi-interface ports and a sheet tray attached with it.
Features
1. Highly reflective material variation which provides various colour materials and marks.
2. Multi-coloured LED Support which helps in working at night shift.
3. Automatic paper feeding intelligence up to 170pcs at a time.
4. 2000G Material-cutting force which can materials easily.
5. 1300-1800 Sheet cutting capacity.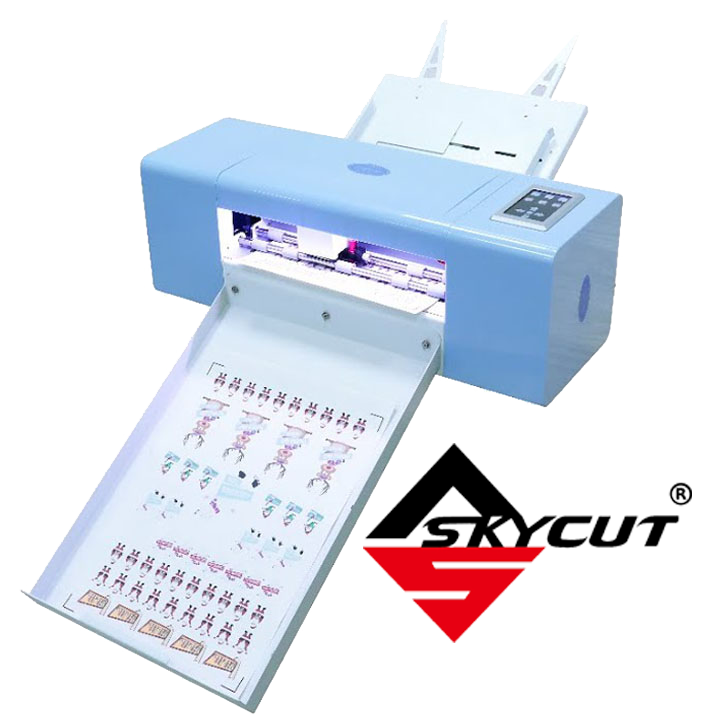 Specifications
| | |
| --- | --- |
| Max Media Width | 330mm |
| Max Cutting Width | 330mm |
| Max Feeding Quantity | upto 100PCS |
| Cutting Precision | 0.01mm |
| Repeat Precision | 0.082mm |
| Max Moving Speed | 700mm/s |
| Max Cutting Speed | 600mm/s |
| Max force | 1000g |
| Connector Interface | U-disk/WIFI/USB Cable |
| Power |  < 100W  |
| Working environment |  +5°C - +35°C |
| Packing Size | 730*330*330mm |
| Packing Gross Weight | appx 28kg |